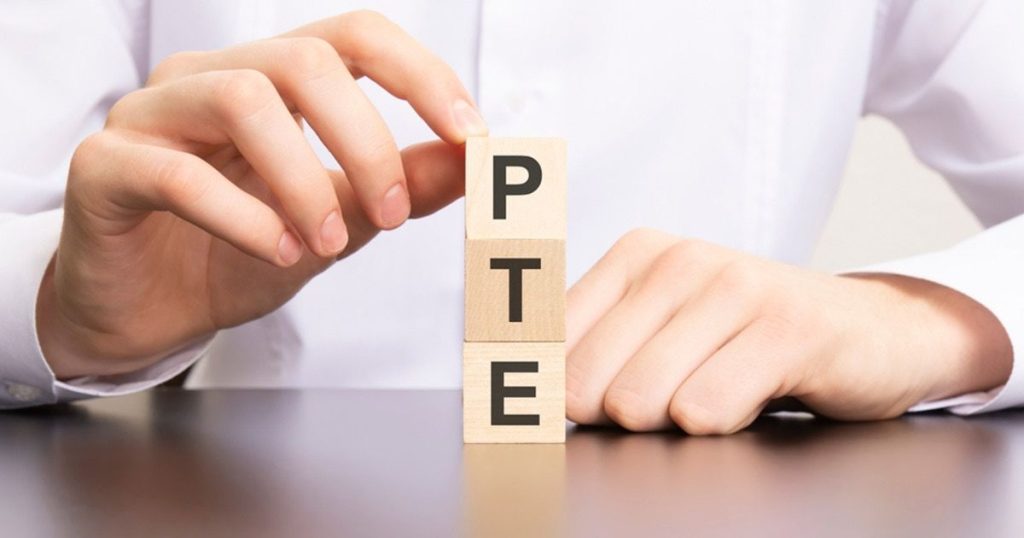 The PTE test is one of the most popular English proficiency examinations. The exam is utilized in applicant evaluation by embassies and businesses. It's the world's most widely used computer-based test of English for applicants looking to study or migrate abroad. Various academic institutions all around the globe, including Harvard Business School, INSEAD, and Yale University.
What is a PTE test?
The Pearson Test of English (PTE) is an English language test that is comparable to the IELTS and TOEFL. This computer-based exam focuses on regular usage of the English Language rather than high-level English. The PTE test measures a person's ability to communicate in English on a day-to-day basis.
 The PTE grading method guarantees that the candidate understands his or her level of proficiency in the English language better.
Since the PTE is conducted on a computer, most results are available in approximately 5 business days from the test date. Some people receive their score within three days, while others get it within a day.
The Pearson Test of English (Academic) is considered by organizations, schools, and governments all over the world.
What is the maximum number of modules that PTE supports?
Listening

Reading

Writing

Speaking
Flexible: In almost 250 locations across the world, tests are available for just about 360 days each year.
Fast: The results are generally declared within 5 working days.
Fair: Since the test is administered on a computer, it guarantees that all candidates are graded fairly and impartially.
Secure: Randomised test forms, palm-vein scanning, and data forensics are used to guarantee test security.
Unlimited: With no additional cost, test takers may send their results to as many colleges or institutions as they choose.
Dr. Raju's came into being in 2006 when our founder Dr. Prasad Raju came back to India after finishing his Master's in the USA and realised the lack of high-quality services in Coaching and University Consultancy. He had been a reputed professor and a career guide to a plenty of engineering students by then, and so, he began to train Masters aspirants to get into top universities. Thus Dr. Raju's Academy was established, where every year hundreds of students are guided to top-notch Masters' programs in diverse fields of study. Many of our alumni are currently in leadership positions at MNCs across various industries. 
Dr. Raju's mission is to enable aspirants to get into specialized and in-demand master's courses, which significantly impact their careers.
With a vision to make our expertise reachable to all genuine aspirants who are passionate about pursuing higher education at Universities across the world, at Dr. Raju's, we care about the careers of our students as if it's our own.
Trainers & counselors at Dr. Raju's strive to deliver the most effective training & guidance providing fair and unbiased service to each and every student and we aim to foster a community in which members help each other in their career progression.
Dr. Raju's being one of the best IELTS Coaching Centers in Hyderabad provide services like coaching in GRE, IELTS, PTE, TOEFL, DUOLINGO and application guidance along with USA, B2, F1 & H1B visas.
Frequently Asked Questions
Yes, you can discuss all your career-related questions with us. We can give you good insights based on our experience guiding multiple students. Schedule a call with us to talk about your career. 
Although we have tie-ups with multiple universities, we do not force anyone to choose them. Our students also go to non-tie-up universities, ranked very high for their programs. We do not suggest low-ranked universities that are bad for your career. Instead, we only encourage students to choose good-quality universities where there's a good return on investment.  
We have an in-house Ivy League graduate and a network of students who went to the top most universities in the world across different streams and specializations. So we have the required expertise to help you crack into top programs for your field. 
Through extensive research and past knowledge, We match about 15-20 universities based on your profile, course of study, preferred location, budget etc. We also provide your "chances of admit" for each university suggested to you, based on our historical student admit data available. We make sure we suggest Universities across all rankings and nudge you towards applying to a balanced set of universities. 
Yes. Specifically for working professionals, we make sure we are available on weekends as well (usually Saturdays). We give extra time for working professionals only on these days to help finish their applications.