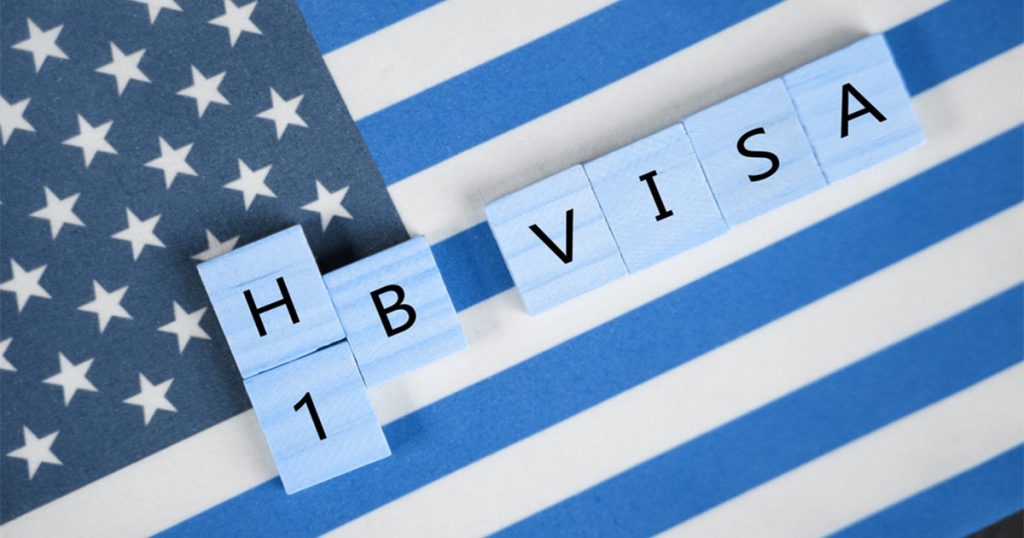 The US H1B Visa is one of the most widely used work visas in the United States. It's a visa that requires an employer to apply on behalf of a skilled worker. Because the visa is reserved for professionals, applicants must usually have at least a Bachelor's degree in fields such as IT, finance, architecture, medicine, or science among others.
The H1B visa is a non-immigrant visa, which means that the holder can only stay in the US for a specific period of time. The current maximum period of stay is six years. The visa is also renewable, but the applicant must have a job offer from a US employer and must meet certain requirements.
The H1B visa is one of the most sought-after visas by Indian workers. In fact, more than three-quarters of all H1B visas granted in 2016 went to Indian nationals. This is because there is a large demand for skilled workers in the United States, and the H1B visa allows these workers to live and work in the country for a period of time.
Successful petitioners under the H1B visa can:
Live and work in the United States

Extend your stay in the United States

During H-1B status, you may change employers.

Stay with their US-based dependent spouse and children (under the age of 21).
Dr. Raju's came into being in 2006 when our founder Dr. Prasad Raju came back to India after finishing his Master's in the USA and realised the lack of high-quality services in Coaching and University Consultancy. He had been a reputed professor and a career guide to a plenty of engineering students by then, and so, he began to train Masters aspirants to get into top universities. Thus Dr. Raju's Academy was established, where every year hundreds of students are guided to top-notch Masters' programs in diverse fields of study. Many of our alumni are currently in leadership positions at MNCs across various industries. 
Dr. Raju's mission is to enable aspirants to get into specialized and in-demand master's courses, which significantly impact their careers.
With a vision to make our expertise reachable to all genuine aspirants who are passionate about pursuing higher education at Universities across the world, at Dr. Raju's, we care about the careers of our students as if it's our own.
Trainers & counselors at Dr. Raju's strive to deliver the most effective training & guidance providing fair and unbiased service to each and every student and we aim to foster a community in which members help each other in their career progression.
Dr. Raju's being one of the best IELTS Coaching Centers in Hyderabad provide services like coaching in GRE, IELTS, PTE, TOEFL, DUOLINGO and application guidance along with USA, B2, F1 & H1B visas.
There are three years validity on the ID card and it is extendable up to a maximum of six years.

Once the validity of a visa has expired, a foreign national must depart the United States or apply for another visa. 

In the case of not complying, he can be sent away, lose his legal status, or even be deported if he refuses to comply.
The H1B visa is a numerical rating system that assigns applicants varying degrees of points. To be considered for an H1B visa, you must have at least 12 points. You must meet the following requirements:
A Bachelors' or Masters' degree from your country)
(or)
Work experience of 12 years 
(or)
A mix of work and education experience
You are awarded points as follows:
For every 1 year of college studies, you're awarded 3 points 

For every 1 year of work experience, you're awarded 1 point
Your H1B petition can be filed once you've earned at least 12 points.
H1B visa cost: 
Standard H1B Filing Fee is currently – $555 which is for the 1-129 petition.
The fee is payable by bank transfer or cash at a selected Indian bank with branches throughout the country. Then, on the US Visa Service website, create a profile and pick the scheduled appointment option to ensure that the correct amount is paid and that the appointment is made in a timely manner.
You will be presented with payment alternatives and further information on how to start a payment on the payment confirmation screen. The service fee is valid for one year from the date of payment. For your visa interview, you must make an appointment within a year of paying the service fee.
How we at Dr Raju's can help you
The H1B visa demands the most thorough documentation in order for your request to be accepted. Dr Raju's has the expertise and knowledge to ensure that your application is complete and adheres to all requirements. Our team may help you with:
To work for the parent, affiliate, or subsidiary of your present employer.

Assistance for a job search in the US

Preparation of the required paperwork/documentation

Start to end of the Application Process

Filing of Forms, Documentation & Petition
The H1B Visa is a transformative opportunity for people seeking to work in the United States. Dr Raju's can assist you in making the most of this opportunity by beginning with assisting you in finding employment and proceeding through the process of applying for a visa, etc. Get in touch with us immediately to learn how we may assist you.
Frequently Asked Questions
Yes, you can discuss all your career-related questions with us. We can give you good insights based on our experience guiding multiple students. Schedule a call with us to talk about your career. 
Although we have tie-ups with multiple universities, we do not force anyone to choose them. Our students also go to non-tie-up universities, ranked very high for their programs. We do not suggest low-ranked universities that are bad for your career. Instead, we only encourage students to choose good-quality universities where there's a good return on investment.  
We have an in-house Ivy League graduate and a network of students who went to the top most universities in the world across different streams and specializations. So we have the required expertise to help you crack into top programs for your field. 
Through extensive research and past knowledge, We match about 15-20 universities based on your profile, course of study, preferred location, budget etc. We also provide your "chances of admit" for each university suggested to you, based on our historical student admit data available. We make sure we suggest Universities across all rankings and nudge you towards applying to a balanced set of universities. 
Yes. Specifically for working professionals, we make sure we are available on weekends as well (usually Saturdays). We give extra time for working professionals only on these days to help finish their applications. 
If you represent a college or an institution that requires bulk enrollments for students, do get in touch with us.